OK! Sorry for being mia for a while.... Time is never on my side lol!
Tonights post is about Icings! I am addicted to icing! Buttercream to be exact! Love it! Esp on a yummy chocolate cupcake! Nothing is better!! Im always on the hunt for the best icing! No offence to anyone that likes the 'store bought' icings, but i have never liked them! Unless its the german chocolate cake icing, ill pass on it if its from a can.... so I have tried alot of homemade icings and always seem to go back to the basic buttercream (which I will post someday soon) but the other night i whiped up 2 more I found online and here is one of them:
I will post my icing reveiws and their recipes as the weeks come. And
if you would like to share your Icing/Frosting Recipes with me Id be super thrilled!! Ill happily try them all and post them here, on cute lil recipe cards! :)
Now this is from Wilton, it is their "Buttercream" icing. Altho its not very buttery at all. In fact this reminded me alot of the can icings and I didnt care for it at all. My boys on the other hand loved it! And the only thing I did like about this one was it is a crisp white icing, and the consistency was really nice for piping on the cupcakes. (tho as u can see by the pic I didnt take much care in that.... I was too tired lol!) This one is made with crisco, and I wanted to try one with that since i always use butter, and sometimes dont want to wait for it to soften lol! But Ill wait heehee!!
So Im not a fan of this one, but if you like canned icings, and want it to have more of a homemade-y taste to it, then you'll love this one! :) I even added a lil Raspberry Extract to some (i adore raspberry and chocolate together) and still didnt care much for it...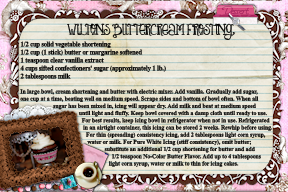 ((Click on the frame for the full size recipe card))
Let me know what you think of this one if you try it.... and again, Id love it if you have a favorite icing/frosting recipe and want to share it with me!!
Have a great night!
xx